Molinari ready to battle Fleetwood for European number one title
---
Molinari and Fleetwood became the first European pair to win all four of their matches together at Le Golf National.
Francesco Molinari insists he is fit to battle Ryder Cup partner Tommy Fleetwood for the title of European number one, even though his Paris heroics left him unable to tie his shoes.
Molinari and Fleetwood became the first European pair to win all four of their matches together at Le Golf National, with Open champion Molinari going on to match Larry Nelson as the only players to compile a perfect 5-0 record under the current format.
The duo will be reunited in the first two rounds of this week's British Masters at Walton Heath, with team-mate Thorbjorn Olesen completing the marquee group, as Fleetwood seeks to close the gap of 1.4million points to Molinari at the top of the Race to Dubai.
"It's going to be a little strange to try and beat each other instead of playing as a team," Molinari said. "Winning the Race to Dubai is the big goal I have, but there's Tommy and many other guys who are chasing me.
"There's still a lot of points and money to play for, so what I can do is try to approach day by day, tournament by tournament, like I've done so far, and do my best and then we'll see after Dubai if that's enough for now.
"Obviously it's been a great summer but it's been a tiring summer. I think it's going to be important to manage my mental energies more than anything and I'd love to do it. It's know it's not going to be easy but I'm going to do my best to try and achieve it.
"This summer has been a bit of a blur. It's been going fast with so many things happening, and really not enough time to rest and recover.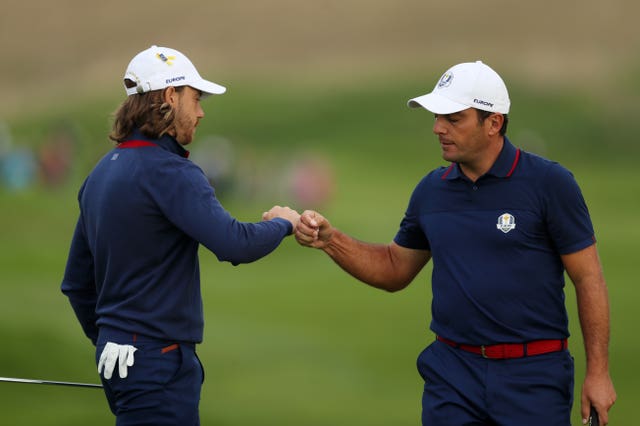 "My back at the end of the Ryder Cup was not great. On Monday, I couldn't do my shoelaces. I'm not a kid like Tommy. I need to manage my energies and my body."
After this week, Molinari's only event before the season-ending DP World Tour Championship in Dubai will be the WGC-HSBC Champions event in China, while Fleetwood will compete in that event and also the Turkish Airlines Open.
"I might get nowhere near and it's a stretch as a goal to think about it, but I'd love to play Dubai with a chance of winning the Race to Dubai," Fleetwood said. "I'd love to get in contention in a couple of events and maybe win one.
"If it doesn't happen, it doesn't happen. It's kind of in Fran's hands a little bit, as well. There's probably people I would prefer to beat, but if it was me and Fran that it came down to, either way I'm going to be more than happy, whichever way that would turn out.
"I think we won't hold it against him. With the year he's having, I think he might deserve it."
Tournament host Justin Rose, who was forced to cancel his pre-tournament press conference due to a stomach virus, can return to the top of the world rankings with a top-two finish.
"When I look back on my career, 2018 will certainly be a special year," said Rose, whose first spell as world number one earlier this season lasted two weeks. "You always want to summarise your career in a couple of sentences and I think I've added a couple of lines this year.
"Reaching world number one is an achievement and a milestone that is huge to me. Obviously I want to get back there as soon as possible and winning the British Masters as tournament host would be a great way to do that."