Murray left to follow Konta in bid for semi-final place
---
Britain hasn't had a male and female semi-finalists at Wimbledon since 1967.
Andy Murray is not used to being upstaged in the second week of Wimbledon but the world number one must try to emulate Johanna Konta and reach the semi-finals.
If he beats Sam Querrey it will be the first time since 1967, a year before the professional era began, that Britain will have had a man and a woman in the singles semi-finals.
Querrey, the 24th-seeded American, will have to cause a sizeable upset to prevent that happening.
The pair have met eight times previously, with Murray winning seven, including on Centre Court in 2010 and in the third round of the Australian Open in January.
Former British number one Greg Rusedski expects the defending champion to make it eight from nine, and then to see off Marin Cilic, who faces Rafael Nadal's conqueror Gilles Muller.
Rusedski said: "Andy likes playing Sam but Sam's had probably the best year of his career so far.
"I like his serve and his forehand, and his backhand's got better, but it comes down to movement and getting balls back and Andy's one of the greatest returners in our game, so he's going to find a solution.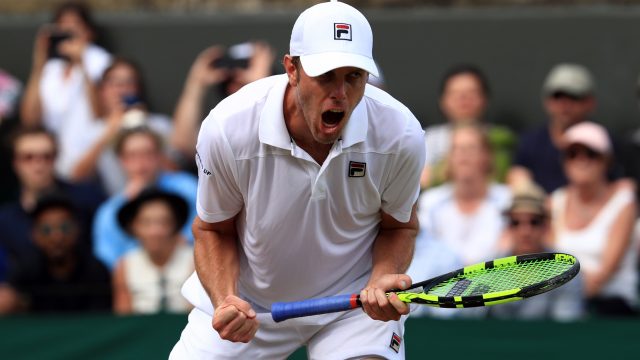 "I think it's going to be loud, noisy, but I expect Murray, although he may drop a set, to come through.
"And Cilic, yes he will push him more, but I just feel Andy's mentality, being on Centre Court, and with his experience – Andy never lets any opportunities go.
"It's an incredible record, 10 quarter-finals in a row, and Andy's got the bit between his teeth because it's been the year of Federer and Nadal. Murray wants to say, 'It's my year as well, I'm world number one, don't forget me'."
Nadal's loss to Muller means reaching the last four would ensure Murray holds onto the world number one ranking beyond Wimbledon.
He will be wary of Querrey, who ended Djokovic's title defence 12 months ago, and said: "Sam obviously likes the conditions here.
"He played really well last year. He's had some good wins here, some tight matches as well. He'll be confident going in.
"He's obviously got a big serve, goes for his shots, a very aggressive player. (Against Paire), I maybe played one or two service games in the first set that weren't the best. Against (Querrey), you can't really afford that.
"I'll need to make sure I'm serving well and not letting him dictate too much."
While Murray's draw has opened up, Roger Federer and Novak Djokovic look destined to meet in the last four.
Djokovic was very unhappy at having his fourth-round match delayed until Tuesday and then with the state of Centre Court but comfortably dispatched Adrian Mannarino.
He will face Tomas Berdych next while Federer takes on Milos Raonic in a rematch of last year's semi-final, which was won by the Canadian.