£17bn a year extra on public services under Labour, pledges John McDonnell
---
The shadow chancellor is calling on Philip Hammond to end seven years of austerity with an "emergency budget" for public services.
Shadow chancellor John McDonnell has said a Labour government would spent an additional £17 billion a year as he called for an "emergency budget" to alleviate the crisis in public services.
Mr McDonnell urged Chancellor Philip Hammond to make a "decisive" break with the "failed" Conservative policies of austerity when he sets out his Budget plans in the Commons next week.
"There has to be a genuine and decisive change of course next week," he said in a speech in London.
"The lesson is that we cannot go on like this. Austerity doesn't just have to end, we have to start seriously investing in our public services and our economy."
Earlier, appearing on the BBC Radio 4 Today programme, Mr McDonnell said Labour would spend an extra £17 billion a year on the NHS, education and local government while ending the public sector pay cap.
"Now is the time to borrow while interest rates are so low," he said.
However the Govenrment warned that Labour's plans would meaner higher taxes putting the economy at risk.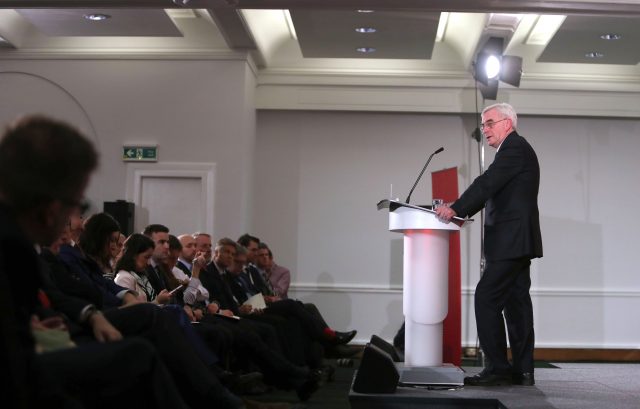 Treasury Chief Secretary Liz Truss said: "The shadow chancellor has today admitted Labour would borrow billions more and hike up taxes to record levels.
"The costs would rack up and up, putting economic growth at risk and hitting ordinary working people in the pocket."
Mr McDonnell said Labour would put an end to tax giveaways to wealthy corporations while raising £6.5 billion through clamping down on tax avoidance.
"This is a wealthy country, one of the richest in the world. But that wealth is held in too few hands, and spent for too little purpose," he said.
"Even as they have been cutting public services to the bone, they have been offering huge giveaways to the mega-rich and giant corporations.
"Tax cuts introduced for both since 2010, including corporation tax and capital gains tax, will cost us over £70 billion over the next five years. Every single penny lost in these tax cuts means less money for our public services."
With nurses reliant on food banks and head teachers asking parents for donations to keep their schools open, he said Mr Hammond needed to take "strong, effective action" to deal with the problems Government policies had caused.
"Next week the country needs an 'emergency Budget' to alleviate the emergency taking place right now in our public services, and the millions of working households in our country struggling to get by – not a Budget desperately designed to save the jobs of a weak Prime Minister and her embattled Chancellor," he said.