Finance Secretary takes to the slopes for snowboard lesson
---
Derek Mackay was visiting Snow Factor Braehead, recently named Digital Business of the Year.
Finance Secretary Derek Mackay just about managed to stay upright on his first snowboard lesson in Renfrewshire.
After several trips to the top of the slope at Snow Factor Braehead, he appeared to be getting the hang of the sport.
The company, Scotland's only indoor-sports destination, was recently named Digital Business of the Year by the Scottish section of the Federation of Small Businesses (FSB).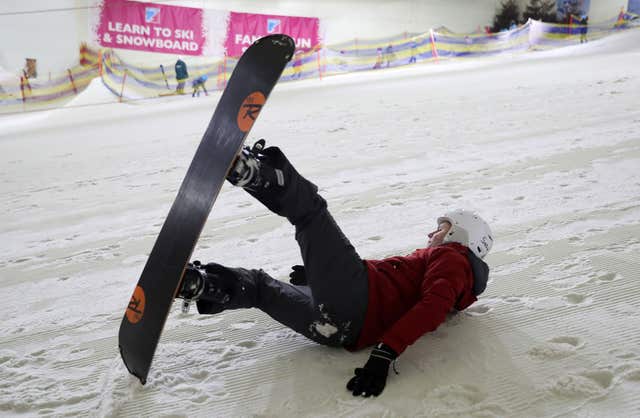 Mr Mackay said: "In Renfrewshire we are fortunate to have a high number of quality businesses and enterprises now operating bringing jobs and economic growth to the local area.
"It also brings visitors to Renfrewshire. With the success of online bookings and digital promotion, businesses such as Snow Factor can attract visitors from across the west of Scotland and further afield to the area."
Jamie Smith, owner of the Ice Factor Group which bought Snow Factor in 2011, showed Mr Mackay around the facility.
After being shown the basics by instructor Conor McIlraith, the MSP said: "It was good fun, I thought it would be a bit more dangerous."
Mr McIlraith said the MSP's skills on the slope were "above average", adding: "After three runs, he was able to do it by himself."