Hormone pregnancy test review a complete whitewash, say campaigners
---
The Commission on Human Medicines' expert working group delivered their findings.
The use of a hormone pregnancy test in the 1960s and 1970s was not responsible for serious birth defects experienced by some families who took the drug, an official review has concluded.
However, campaigners have called the review by the Commission on Human Medicines (CHM) a "whitewash" saying that the expert working group did not examine all of the available evidence on the use of the drugs – the most commonly used was called Primodos.
The CHM expert working group on hormone pregnancy tests (HPT) said the scientific evidence does "not support a causal association" between the use of HPTs such as Primodos, and birth defects or miscarriage.
It said: "Having thoroughly examined all of the evidence, the conclusion of the review is that the use of HPTs, including Primodos, in early pregnancy was not responsible for serious birth defects experienced by some people."
The inquiry was set up by the Government after concerns were raised that the drug used to detect early pregnancy may have caused birth defects and miscarriages.
The group recommended that families who took an HPT and experienced an "adverse pregnancy outcome" should be offered genetic testing to see whether another underlying cause could be determined.
It also called for electronic side effect reporting and a working group to advise on better ways to collect and monitor data on the use of medicines in pregnancy.
But Marie Lyon, chairwoman of the Association for Children Damaged by Hormone Pregnancy Tests, said she was "bitterly disappointed" at the outcome and claimed the review had not examined all of the evidence.
"I sent a lot of evidence that was neither reviewed or discussed," she said.
Ms Lyon said the drugs she was instructed to take in 1970 were "40 times the strength of an oral contraceptive".
Her daughter Sarah, now 47, was born with a severe limb deformity with half of her arm missing below the elbow.
Ms Lyon, 71, said: "I didn't ask because I assumed that was the way that you found out you were pregnant. But I wasn't given a choice, I was just given these two tablets, told to take them and then if nothing happened I was pregnant.
"When Sarah was born she was born with her arm missing from just below the elbow but there was a tiny little palm with five little tiny fingers which they had to amputate when she was 13 months old so she could have an artificial limb fitted."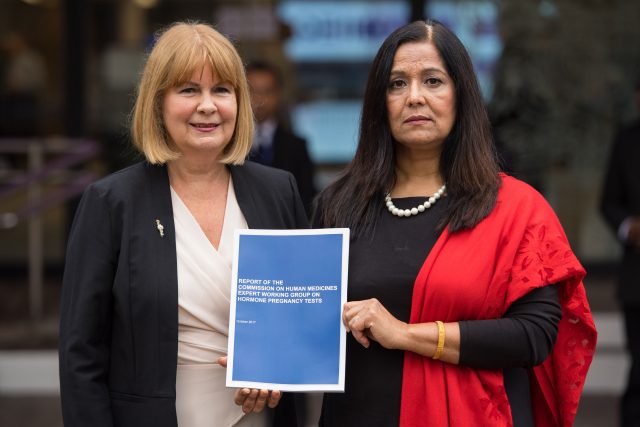 Yasmin Qureshi, Labour MP for Bolton South East, said there should be a judicial review or a separate inquiry to examine allegations of a cover-up by medical regulators at the time.
She said: "I am completely disgusted by the report. They clearly have not looked at the evidence that was presented to them.
"If they had looked at the evidence presented to them they could never have arrived at the conclusion they have now. This report is a complete whitewash. It is not worth the paper it has been printed on."
The Association represents 236 families who believe they were affected by taking the drugs in early pregnancy.
It estimates that 1.5 million took the drugs and thousands of families have been affected, though some may be unaware.
Professor Stuart Ralston, chairman of the CHM, said: "This was a comprehensive and wide-ranging scientific review of all the available evidence on the possible association between HPTs and birth defects by internationally leading experts across a broad range of specialisms."
A spokeswoman for pharmaceutical giant Bayer, which acquired Primodos manufacturer Schering in 2006, said: "Bayer notes that a review by an independent expert working group on hormone pregnancy tests of the Commission on Human Medicines has found, consistent with Bayer's view, based on all available data, that the scientific evidence does not support a causal association between the use of hormone pregnancy tests, such as Primodos, and birth defects or miscarriage."