Baby boomers 'should not get in the way of Millennials' housing needs'
---
Communities Secretary Sajid Javid said the shortage of affordable property risks creating a "rootless generation".
Baby boomers who have paid off their own mortgages should not be allowed to get in the way of the construction of homes for a younger generation "crying out for help with housing", Communities Secretary Sajid Javid has said.
Mr Javid was speaking as official Government figures showed that 217,350 new homes were added to the English housing stock in 2016/17 – 27,700 up on the previous year and the highest since the financial crash of 2007/08.
The figure was hailed by Downing Street as a sign of progress, but Theresa May's official spokesman said the PM acknowledged there was still "a huge amount to do".
The housing charity Shelter, which estimates that 250,000 new homes are needed each year to tackle the crisis, said the numbers fall "woefully short" of what was required and pointed out that not even a fifth of the new properties are affordable.
The figures came as the Government announced that housing association debt was being taken off the balance sheet, in an accounting change Mr Javid believes will give a stable investment environment to fund new homes.
The "net additional dwellings" figures released by Mr Javid's Department for Communities and Local Government include 183,570 new-build homes completed in 2016/17, along with 5,680 conversions and 37,190 changes in use from agricultural, business or storage to residential. The total was reduced by almost 10,000 demolitions.
In a speech in Bristol, Mr Javid admitted the shortage of affordable property risks creating a "rootless generation" who drift from one short-term rental to another and never put down roots in a community.
He insisted that building enough new homes could be done without "ruining vast tracts of beautiful countryside" by concreting over fields.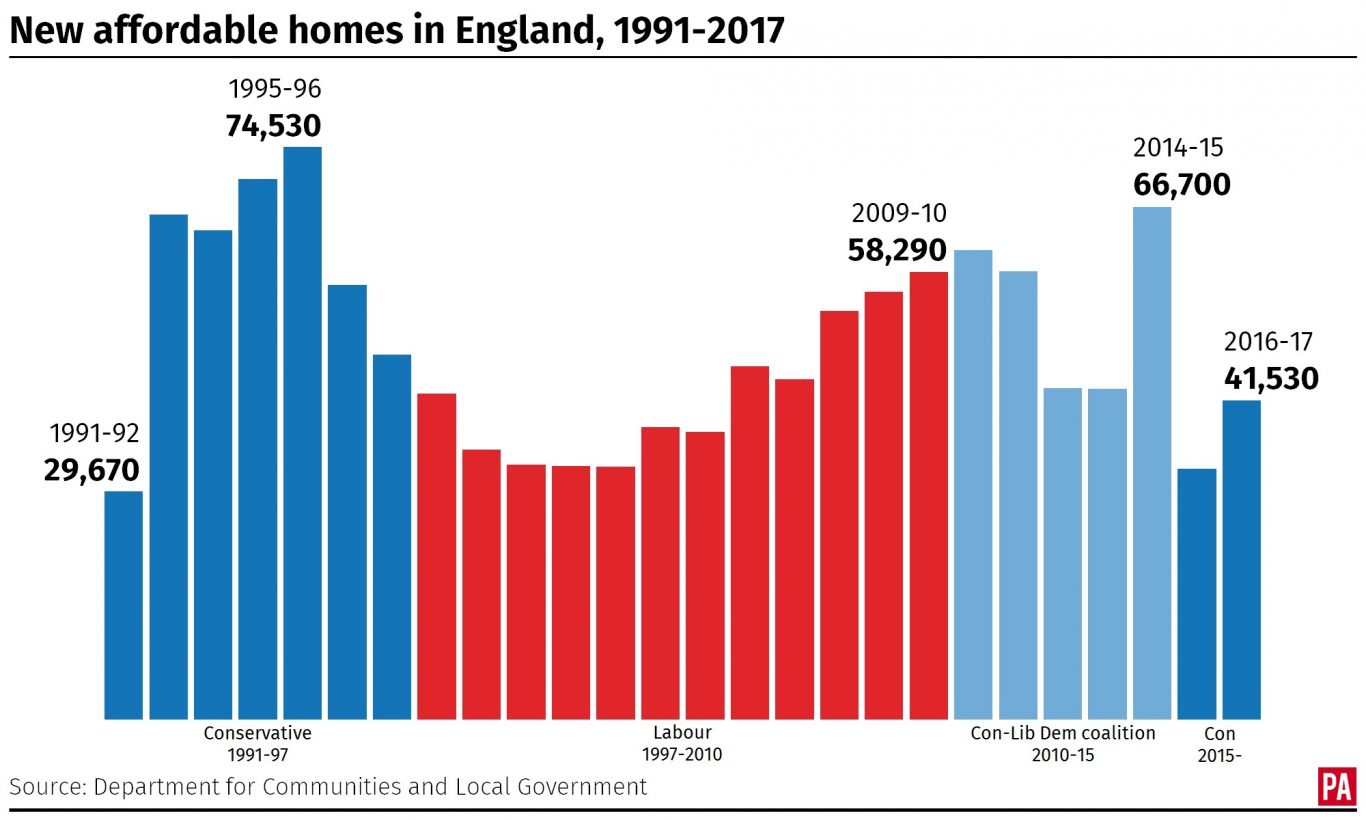 And he said he rejected the resistance to new development which came mostly from "baby boomers who have long since paid off their own mortgage" who claim that housing problems were caused by an "over-entitled" Millennial generation spending their cash on "nights out and smashed avocados" rather than saving for a home.
Mr Javid said: "They don't want the world handed to them on a plate. They want simple fairness, moral justice, the opportunity to play by the same rules enjoyed by those who came before them.
"Without affordable, secure, safe housing we risk creating a rootless generation, drifting from one short-term tenancy to the next, never staying long enough to play a role in their community."
For Labour, shadow housing secretary John Healey said: "These figures confirm that new house-building still hasn't returned to the level it was before the global financial crisis, a decade on. Any increase in new housing is welcome, but in any other area of public policy this record of failure would be cause for resignation, not celebration."