Q&A: Everything you need to know about the Foreshore issue
Wednesday 26 July 2017
---
When islander Alan Luce tried to sell his coastal home, he never expected he'd be slapped with an unexpected bill of nearly £30k from the States of Jersey.
The issue? His property encroached on public land – a coastal zone known as the 'Foreshore', which brought a lot of historical and legal complications with it.
Here, Express teases out the confusing bits and gives you everything you need to know on the Foreshore issue - and whether it might affect you...
What exactly is 'the Foreshore'?
It's officially defined as, "The area lying between the Low Water Mark and the High Water Mark of the Full Spring Tide."
Who owns it?
We do! 'The Public', that is.
Historically, the ownership of Jersey's foreshore and seabed lay with the Queen. It included all of Jersey's beaches and the seabed beneath its territorial waters. But that was gifted back to 'The Public' in 2015.
Amongst other things, the Royal gift allowed the Island to better consider how it was using its shores, and gave it full rights to consider leasing areas for future considerations like renewable energy or cycle path development.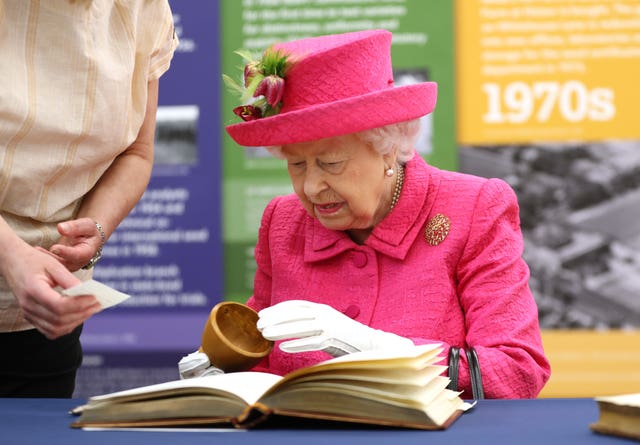 Pictured: The Queen used to own the Foreshore area and seabed until she gifted the land to the people of Jersey in May 2015. (PA)
Hold on… The land stops at high tide, though? Isn't that an issue?
Exactly. While many might think the sea wall is the definitive boundary for where Public and private land meet, that's not the case. The ancient – and rather unscientific – definition means that wherever the sea stops, the States' 'property' stops.
That raises a few questions… We've previously seen flooding up to the Opera House in Gloucester Street and close to Beaumont Hill in times of bad weather. So can the States lay claim to that land too? 
Moreover, if weather continues to worsen and tides rise higher, the 'Foreshore' could keep extending… and extending… and extending…
So can the Government lay claim to anything along that moving boundary? 
Technically, yes… Homes, shops, cafés… If it's between low and high tide, it's on the Foreshore and therefore an encroachment.
…Bunkers, too? Could the States claim compensation for those? 
One might hazard a guess that it's unlikely the Public will be chasing the German government for compensation for their wartime fortifications anytime soon, but they most certainly count.
So what does that mean for coastal homeowners?
If they so wished, the Department for Infrastructure (DfI) could tell you to remove any offending extensions at any moment – whether that's a wall, a fence, or a whole property. Most likely, however, they'd ask for compensation – though it's hard to say how much the land is actually worth.
Pictured: Previous floods have proven the sea wall isn't a definitive 'high water mark' boundary, meaning the Public's land technically reaches as far as the water can.
How do they calculate how much is the land actually worth?
Her Majesty used to lease the Foreshore to the States of Jersey for £4,500 per year. 
That reasonable rent sum doesn't seem to necessarily be a true indication of the value of the land, however. When the States seek compensation on behalf of 'the Public', they firstly engage an independent surveyor to provide an analysis. 
Spoiler alert: the price to pay is more likely to be a multiplication of the Queen's £4.5k, rather than a fraction.
But some coastline homes have been there for years… Are the States really allowed to force them to pay compensation?
Indeed – some homes only encroach on the foreshore following historic Planning approvals for things like conservatories and balcony extensions.
There is, however, a rule that says encroachments are allowed to remain if they've stayed put for 40 years without disturbance… The bad news? That rule doesn't apply to when a piece of land is in Crown ownership. So since the land came into the Public's hands, there's still 38 years ticking on the clock… 
Is there a political policy behind that? 
Not yet, but the Department for Infrastructure say they're working on it, although the issue hasn't reared its head in the States just yet.
Pictured: Coastal homes along the sea wall from Havre des Pas to Fauvic could be affected.
Has anyone been told off – or worse, billed – for encroachments so far?
Greve d'Azette-based Alan Luce, for one. He was sent a bill last year over a balcony and extensions abutting the sea wall – neither of which he had placed there himself, as he'd bought the property that way. Last year, he was made to pay compensation totalling nearly £30,000 plus the Public's legal fees, which amounted to £4,725.
A spokesperson for DfI also confirmed to Express that three settlements had passed through the Royal Court so far and that numerous others were on their way.
How did Mr Luce react?
He wasn't very happy about the affair, as one might imagine. Read his story here.
What does DfI say? 
They maintain it is their right to be able to ask for compensation – and they're right. Whether those asked to pay up agree with the morals behind the principle, however, is another matter.
Loads of land owned by Ports of Jersey sits around the coast – surely they have to pay?
It's a good question. When the Queen gifted the land back to the Public, many of the relevant zones surrounding the Harbour and up to La Fregate were passed over to Ports. It seems, however, quite unlikely that DfI will start to chase them.
Pictured: The Harbour area, which is looked after by Ports of Jersey.
I've got a sea wall-side property… Should I be worried?
Maybe… DfI are looking to address future encroachments and, if assessed as being one, your property or elements thereof could be next. 
The good news? They promise to treat each and every case "on its merits" and say that if an encroachment has remained for many years, this may mitigate the settlement figure sought.
...And if my property borders any other public land?
The States say: "There is a need to protect the Public's interest as a landowner, and other encroachments are regularly dealt with on a case by case basis."
So yes, you too. Think Railway Walk, and other bordering zones... They could all be liable to pay.
READ MORE:
Coastal homeowner accuses States of £30k "extortion"

In-depth: The man who paid £30k to the States just to sell his house